A "Chronicle" is a storyline that can have effects across the Continent of Lisianthus and eventually would become well known by all. As indicated by Syeira Anariel (Nerissa) in Nerissa #1, The Queen of Sirenia, Tritonia IX has passed away. Revelations about her successor will come to light soon, but for now, a few lasting impacts on the Continent can be felt, such as:
Sea goods, like crab, certain kinds of fish, pearls, and so on will rise considerably. One should expect that this will have some impact on trade, making seas goods not produced in Sirenia more competitive in market.
All factions that have any sort of agreement with Sirenia will probably attend the funeral.
There are "Chaotic Neutral/Evil" merfolk who are considered "Outsiders" and are not affiliated with Sirenia. There's certainly a possibility that they may seek to strike when the queendom is in a vulnerable state of confusion. Even so, Sirenia has a formidable force, so direct assault is likely not a feasible option. Additionally, any evil group might consider this an opportunity to unleash havoc.
Besides Nerissa's take on the story which will have chief importance as it develops, nearly anything else goes. Some considerations:

What impact will this have on Silverwind and Annwn for trade?
Sirenia's next in line rule could be either a merman or a mermaid, what implications could happen based on whether the ruler is a strong one or a weak one? May Sirenia's priorities shift dramatically and what effect may this have on the mainland as well as internally?
The mers have always been kind of solitary in terms of not making much in the way of contact with land-dwellers, but this could potentially change. What sort of new alliances with good or evil could be formed and what impact may this have with the "Balance"?
As details develop, this page will be updated to reflect the changes. Once things return 'to normal' or at least to a point where stability is achieved, then this Chronicle will end. Chronicles again are sort of 'storylines' that are far-reaching and depending on the severity of them could last anywhere from a few days to months or even years.
As the conflict intensifies in Vhaerun since Zarra from Blackmoor has desired to seek Sirenia's capital, we can assume that most of Vhaerun is now on guard to some degree. With the exception of the Elves in Tavrobel and surroundings, it can be said that no other realm will have knowledge of this event, at least not yet. Silverwind might see a glimpse of activity coming from Blackmoor on the other side of the mountain pass, but otherwise the view hasn't changed much from their vantage point. This may change as Silverwind's traders tend to trade with the Gypsies at Gitana in Tigan'ra as they have to pass through the NE border of Blackmoor/Taur-i-Melegyrn.
The Sirens have a pretty good alliance with the Serpents in Nila Kanta. Naturally news would spread to them and eventually also to the Orcs and Goblins, though right now, they don't seem to have any real interest in the conflict (but of course, this could change). Inevitably, we can assume the Merfolk will eventually find out about the conflict, it's just a matter of when.
The Tieflings are taking a 'wait and see' approach. They could very well just take the spoils after the various sides have worn themselves out *grins*.
As now detailed, Vhaerun has adopted a 'scorched earth' tactic in some ways, though not burning down the forests. With the less than stellar conditions regarding travel, we can add the FATE situational aspect of "Muddy Movement" which can be employed into play as needed. Additionally, I'll be employing weather into this scene, you see, there's another storm of a different type brewing off the SW coast of Blackmoor and Vhaerun and heading NE. Expect several days of pretty consistent rain and wind. We'll call this situational aspect "Wet N' Wild". In addition to making the travel conditions even worse, it would make it much easier for Zarra's forces to topple down trees and other things due to saturated ground. As was mentioned previously, the shoreline is rather foggy at the moment, so the situational aspect of "Foggy" will be used. It's going to make combat more difficult for everyone in general though. Fire magicks in particular will be less effective than usual.
You can learn more about how FATE resolves Conflicts at: https://fate-srd.com/fate-core/conflicts.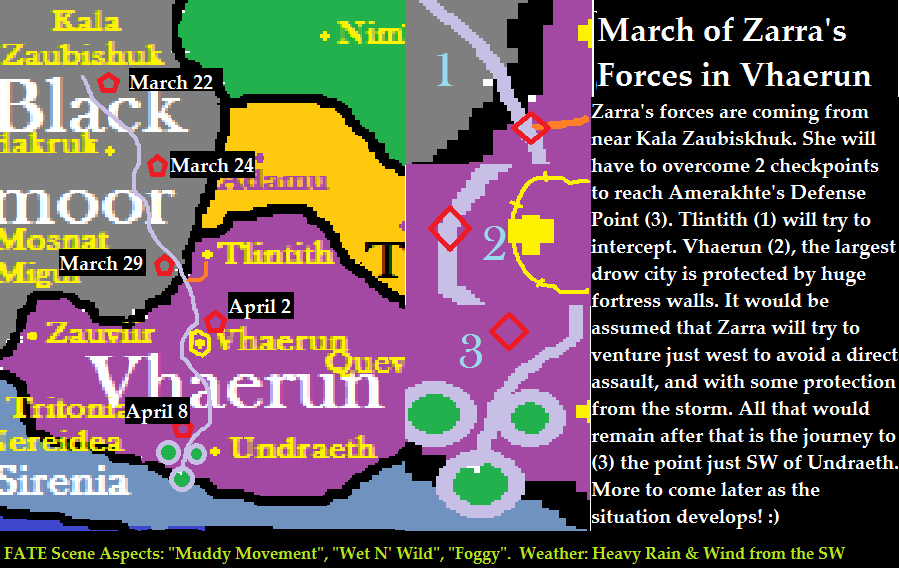 Other notes: Tlintith is not overly strong. Because of the sheer size of Zarra's army, it can be safely assumed that Tlintith forces would have to retreat (still of course, roleplay it out). Vhaerun City is very powerful, but Zarra's army would acquire some protection in the forest to its west if she chooses to try to sneak by. Otherwise a direct assault on Vhaerun is also a possibly, but risky. Heavy wind and rain will cause issues for both sides, but gives Zarra's forces a slight edge as it will enable their weaponry to fly further should they attrack from west to east.
It should be noted that due to the poor conditions, sea travel is not advised, though one might expect that the storm will eventually recede. If that happens, it will be put here as an update.
At this time, only Vhaerun, Blackmoor, perhaps Western Tigan'ra, and Tavrobel know what is going on. Sirenia will know by the end of this coming weekend as a faithful meeting will occur by then, however, it will be too late for Sirenia to provide any military backup for this current conflict, except for possibly a few reinforcement from Tritonia, and Nereidea, but this remains to be seen unless negotiations go well.


Last edited by Nyza Stillwater on Wed Mar 29, 2017 12:54 am; edited 1 time in total
The map has been updated to reflect the following two posts: