[posted on behalf of Elbereth]
Orlaith Faerie Queen flutters her golden wings impatiently, her voice rising with annoyance, "ssshhh... ssshhh... ssshhh! Pipe down, you unruly pack of heathens!"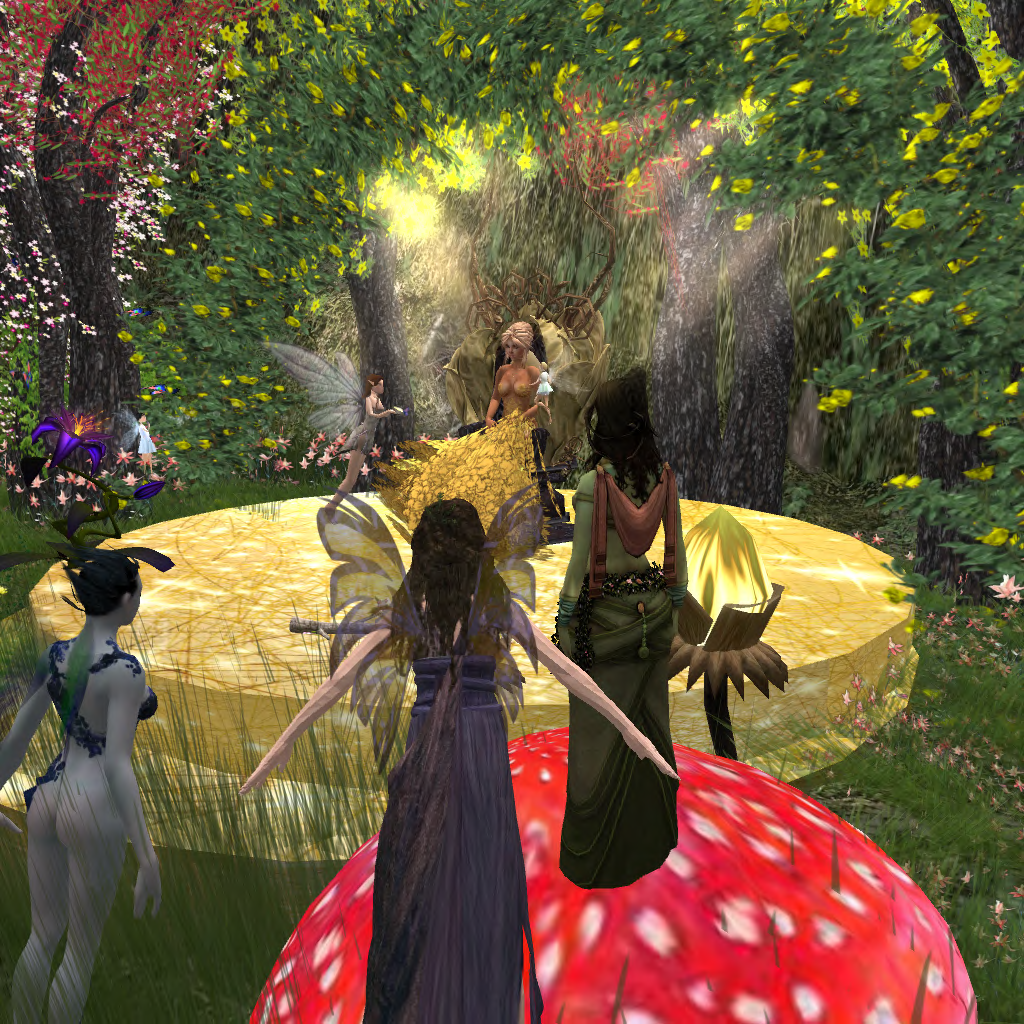 The gathered Faeriefolk and Pixies stop mid-chatter, their eyes widening as their heads swivel in unison towards their angered Queen.
"Who do you think you are to accost my delicate ears with your moaning and whining?", Orlaith rises from her throne, delicately descending the podium and directing her path through the now silent audience, her eyes slicing across the rows of her subjects, making each shrink back a step, before continuing angrily, "... And since when is the Faerie Queen tasked with thinking up mischief for such a rabble as I see before me?"
Orlaith Faerie Queen exits dramatically, her Attendants fluttering uncertainly a short distance behind, leaving the Seelie Court in uproar, their whispers growing in volume until the din threatened to send the forest creatures fleeing the Faerie Realm in terror.
Niamh flicked her colourful pigtails across her shoulder, her eyes and wings following the path the Queen had chosen towards the riverrun. She motioned with a tremor of her wings for Gancanagh to fly behind her, both landing a breath away from the Golden Faerie Queen.
"Your Majesty, my Lady...," her voice faltered as Orlaith turned and narrowed her eyes menacingly.
Niamh cleared her throat, unwilling to falter before the Queen, long used to her capricious ways, "... my Lady, Puck and Jenny Greentooth were surely not meaning to rile you so. They are just young and impulsive and..."
Orlaith Faerie Queen's tone remained icy as she interrupted Niamh, "...without manners!"
Gancanagh smothered a chuckle, trying and failing to banish the mirth from his handsome face, as he rallied to help Niamh calm Orlaith, "My beauteous Queen, as always you are right. It was thoughtless of Puck to... um... request... your input regarding the oncoming escapades."
He finished with a flourish of his translucent wings, bowing courteously, peeking up beneath his long lashes to gage whether his charm offensive was having any success.
Niamh nervously drew circles in the warm sand with her toe, unwilling to meet the stern gaze of the Queen.
Orlaith Faerie Queen waited a moment before pirouetting gracefully, stretching her wings regally, a twinkle lighting her eyes and her lips quivering with laughter. Her voice was light and cheery as she replied to her two faithful attendants, "Pitiful! Truly awful performance!", her silvery laughter filled the Realm as she watched Niamh and Gancanagh's expressions change from watchfulness to surprise.
"I am well aware of the petty needs of my folk, my Sweets! Their love of games and hunts, music and dance, their lust for trickery and pranks, their absolute dependency on ME for new ideas and activities to keep them occupied...", she arched her perfect brows and pouted prettily, "...but, alas, I am weary from Court."
Orlaith waved her hand towards the resplendent ruined walls of the Court, intoning majestically, "Return to the frolicsome gaggle and announce that I assent to their shenanigans and tomfoolery among the Hobbitfolk and humans of the Port Town, but only until moonrise on the morn... AND they shall take care to avoid galavanting too far up the coast towards Silverwind... the citizens there have little understanding of fun and games. They shall be the focus of our revelry next blue moon and we will test their humour then!"
She smiled winningly at her relieved Handmaiden, "Niamh, do remind Puck that he is forbidden from approaching the Elven Haven too. Their foresight will be his doom someday!"
She turned towards Gancanagh as Niamh took to the air and raced back to the Court, her glance shrewd, "And you, my vainglorious Enchanter! You shall remain here at my side until the moonrise merriment is over. We cannot have you bewitching those poor female humanfolk again and leaving them pining the rest of their days."
Orlaith grinned as she saw the male Fae's shoulders slump. "Come now, Gancanagh," she cajoled happily, "...delight me with some music and you may even be rewarded with a dance with me as the new day dawns!"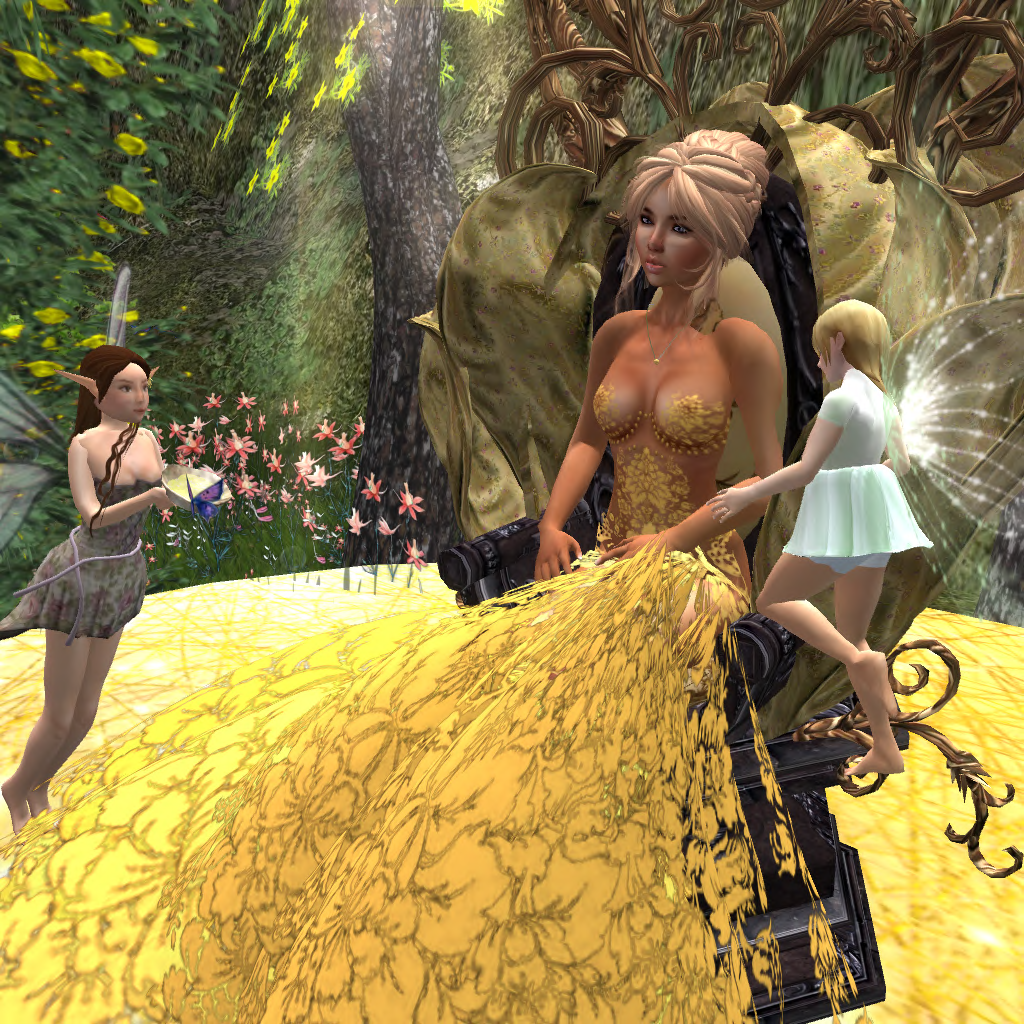 The Faerie Queen took to the air, floating serenely back towards her throne before the now empty Court, followed closely by Gancanagh, unsure whether his Queen was bestowing a disfavour or a boon.