Violet Took ventured out of her neat, well kept Hobbit home only after the sun had risen high over the hills.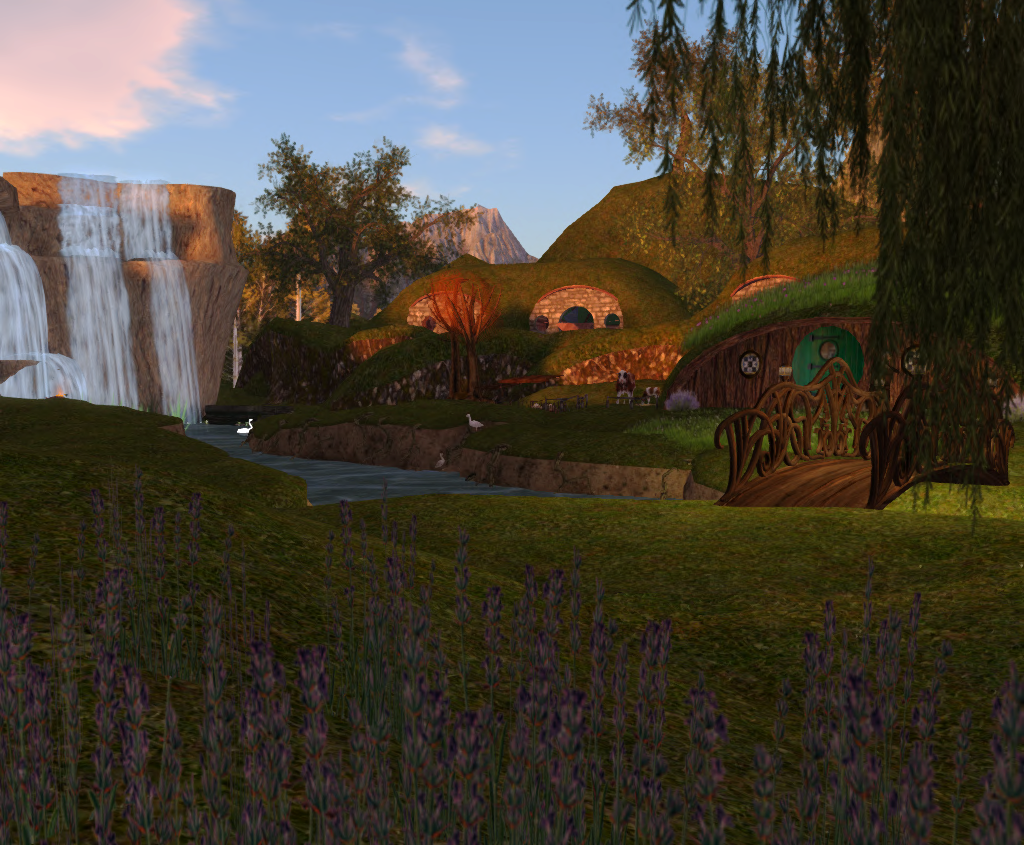 She peered around the doorway and noticed Bungo Brandybuck kneeling at his veggie patch across the stream, busily righting the wrongs to be seen there.
Violet took a deep breath, pushing the door fully open and moving outside, she hailed to Bungo in a shaky, though very loud, voice...
Violet Took: "Well now, Mayor Brandybuck, we be in a right pickle once again!"
Bungo only raised his head a fraction, his hands still busy replanting some strawberries lying awry among the dirt.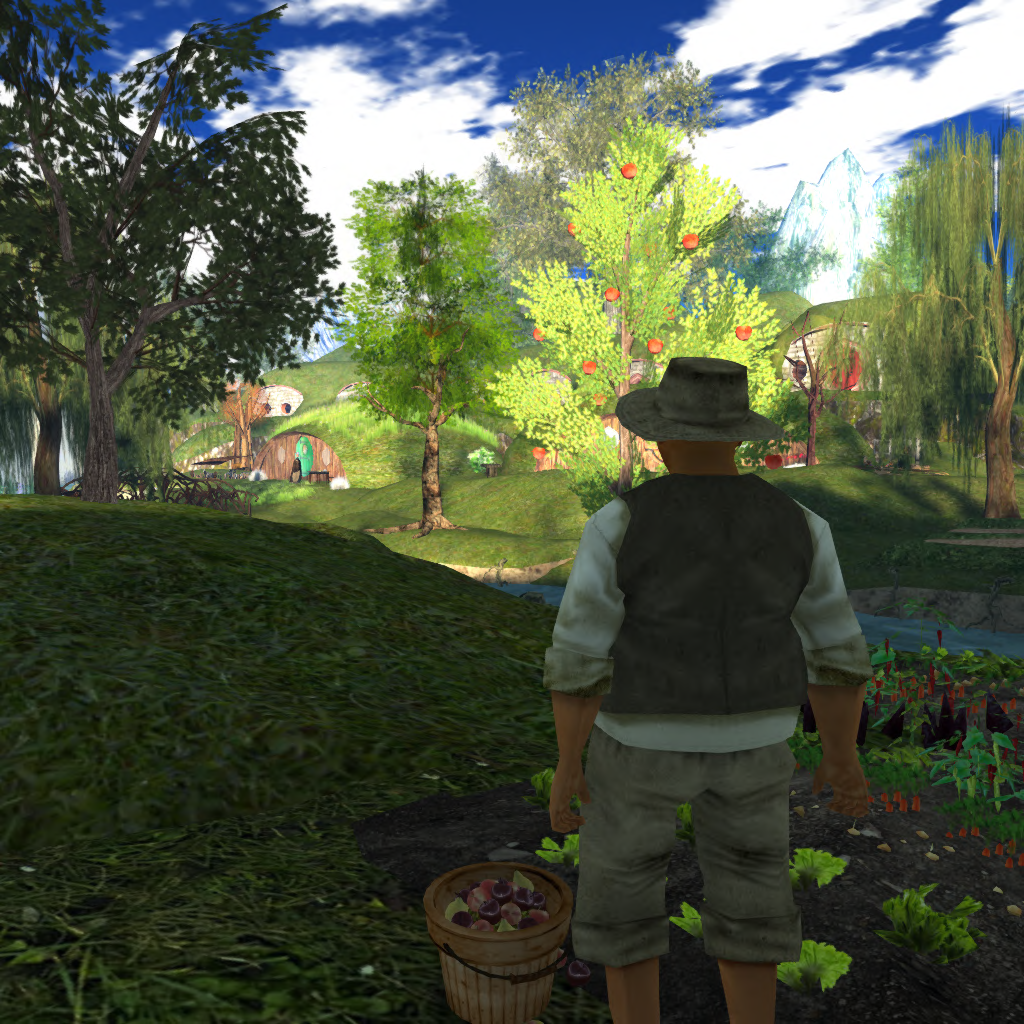 Bungo Brandybuck: "Good morning, Madam Took! Did you say you'd be wanting some of these fine growing pickles out of me garden?"
Violet frowned, not appreciating Bungo's humorous attempt at avoiding the subject.
Violet Took: "Bungo Brandybuck! You look at me and tell me that nuthin' was amiss in GreenFields last eve!"
She waved her hands about, taking in the upheaval among the farm animals, the state of Bungo's garden and the grass between their Smials (hobbit holes), strewn with her prize gardenias.
Bungo sighed and sat back on his haunches, wiping the sweat from his brow with the back of his dirt ladened hand. He looked evenly at his red faced neighbour and quickly decided against increasing her outrage with his mild views on the subject.
Bungo Brandybuck: "Why Violet, 'twere but a scattering of raccoons or squirrels or somesuch getting into our produce and nibbling at the blooms. No real harm done! Anyhow, none that won't be put right by second breakfast!"
He smiled winningly at the female Hobbit and hoped she would return to her kitchen to continue baking her famed pies.
Violet Took scowled at the kneeling Hobbit and narrowed her eyes.
Violet Took: "Shame on yer, Mayor Bungo! You know full well 'twas them frenzied Faerie once again... running amok and..."
She stopped mid sentence, her mouth falling open and gestured towards the pitiful remains of two raspberry-gooseberry tarts or the leftover crumbs, which had been placed outside to cool on the table the previous eventide.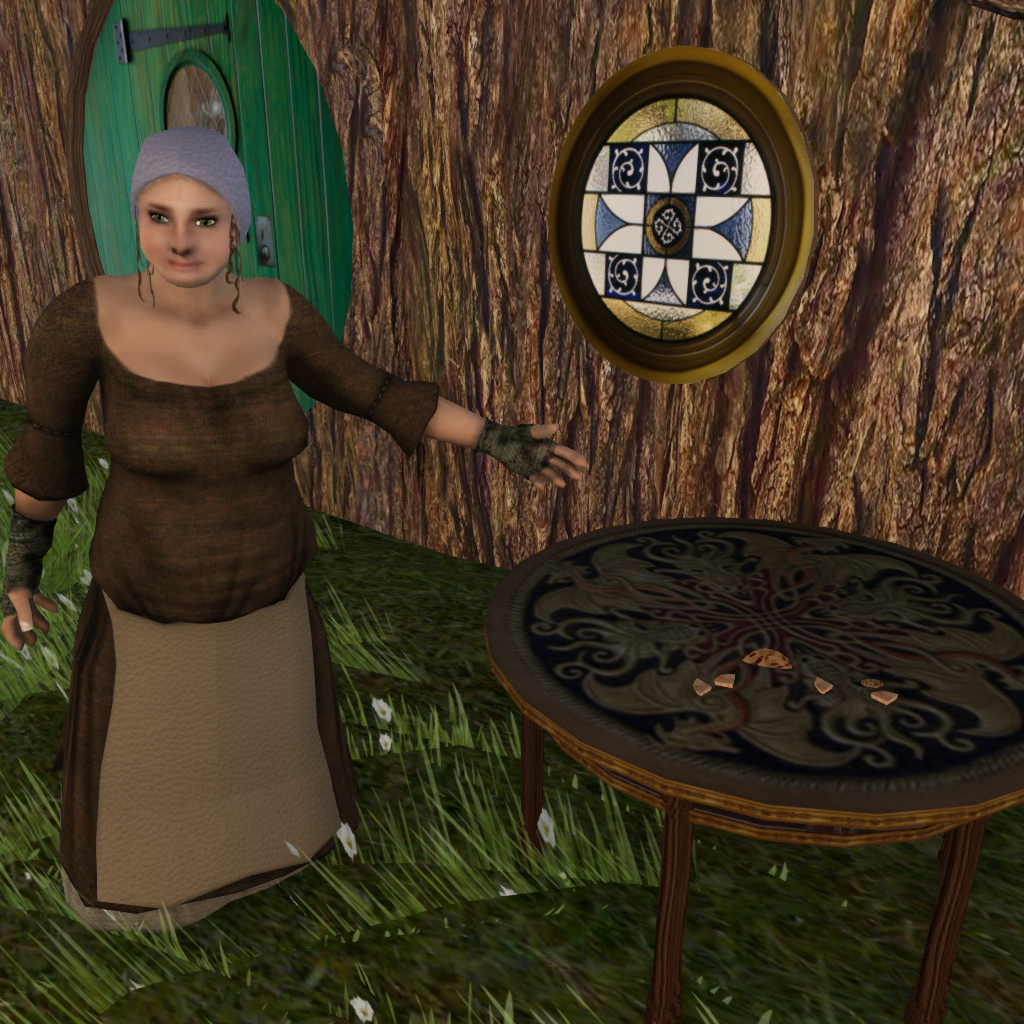 Violet Took: "Look! Look what those insatiable winged creatures have left of my newest culinary creation!"
Her hand shook as she pointed to the near empty pie tins and her face went from red to peuce.
Bungo Brandybuck: "Now, now Violet, calm yerself. You don't know 'twas the Faerie, could have been a crow or something. No use now crying over spilled... aah...crumbs!"
He bumbled to a stop as Violet raged in his direction, crossing the wooden bridge with increasing speed and stopping just short before jabbing him hard in the shoulder, her voice so shrill that other Hobbits ventured out to see about the commotion...
Violet Took: "Bungo Brandybuck, you are a scandal! Covering up the vandalism of those pesky Faerie. Every full moon they seek out GreenFields and cause nothing but trouble. Thieving our goods and glamouring our animals. I reckon they got you good and glamoured as well!"
She turned and marched back towards her front door, stomping across the bridge in a huff, turning once again as she noticed that they now had an audience of interested neighbours and squaring her shoulders, in an even louder voice shouted in the direction of Bungo...
Violet Took: "And don't think I don't know that yer be leaving out milk and berries for them Faerie every full moon, Bungo... always a-hoping you might actually meet one of 'em!
This mess is all yer doing and yer won't be winning friends among us unfortunate VICTIMS of those ravenous fiends, no matter how many wondrous faerie stories yer keep feeding our Hobbit youngsters!"
Bungo exhaled and shook his head at the theatrics before resuming his gardening, muttering...
Bungo Brandybuck: "..always been a gossiping goose!"
Violet frowned as she viewed his unperturbed return to his taters and loudly grumbled in the direction of the enthralled crowd,
Violet Took: "Silly old fool!"
And with that she stepped into her home and slammed the door shut, so that the clamour was heard in all GreenFields.