Tirion slid off his stallion in a fragrant clearing deep within Dorthonion. He waited as Elbereth neared on her silvery mare, Gilroth (Star Horse) and extended his hand to help her dismount.
"Hantanyel, mellon," (I thank you, my friend), her melodious voice and shimmering aura caused a stirring among the assembled woodland elves.
Elbereth smiled, her gaze wandering among the dazzled faces of the gathered crowd as she approached a deer and gently slid her hand down its soft fur.
Tirion remained motionless near the horses, his surprise at the size of the woodland population rendering him speechless.
"Le suilon! Le nathlam hí, hîr nín" (I greet you. We welcome you here, my Lord), Telvolas appeared from among the trees, moving soundlessly towards the Lord of Tavrobel. The King of the Woodland Realm embraced Tirion warmly.
A rueful smile adorned Tirion's face and he replied jovially, "Guren glassui, Belegron! (My heart is glad, Mighty One!). I well remember my last sojourn in Dorthonion and our fateful meeting then!"
Laughter erupted from the two elven leaders and Telvolas turned and addressed his fellow elves, standing guard in the shelter of the mighty trees, "My kin, some may well remember the fun we had chasing the venerable Lord of Tavrobel many moons ago, when his hunting party strayed too near our borders!"
Many ashblonde heads nodded and chuckled in accord, the brevity of the otherwise momentous visit lightened by laughter.
Telvolas clapped Tirion on the shoulder, his eyes full of mirth as he held up his hand and continued, "Aye, Woodland Elves, it has been many Ages since our borders were breached, but we shall not hold this against our elven brother... he was yet young and impetuous back then!"
Tirion's lips curved into a smirk, "Aye, friends, and my brush with the fearsome Woodland King and his Rangers was enough to rid me of my impetuousness... and my youth!", he finished among a chorus of laughs.
The tinkling laughter of Elbereth merged with that of the gathered elves. She gave the deer one last blessing and turned to face Telvolas.
The King of the Woodland Elves strode towards her and lowering himself smoothly onto one knee, he bowed reverentially.
"Telvolas, gornon nin (my Valiant One), our thanks and blessing for welcoming us into your Realm. We have important tidings we wish to share with you," she bent and took his hand, guiding him upwards.
"Melda heri, anann le ú-gennin!" (Beloved Lady, I haven't seen you for some time). Telvolas stood before Elbereth, his eyes fixed on hers.
Elbereth inclined her head, a smile on her lips as she responded, "Has it been so long? Peace makes the passage of time so fluid and although I may not have been here in this form, I have kept watch over your realm and the well being of the Woodland Elves."
At this, her look embraced the gathered Elves and a warm breeze drifted across the clearing, each Elf present standing engrossed in Elbereth's every move and words.
Telvolas beckoned to his Commander and motioned to Tirion to follow him. Elbereth spared one last glimpse towards the lone deer, still watching her from across the clearing, before she proceeded in the direction of the others.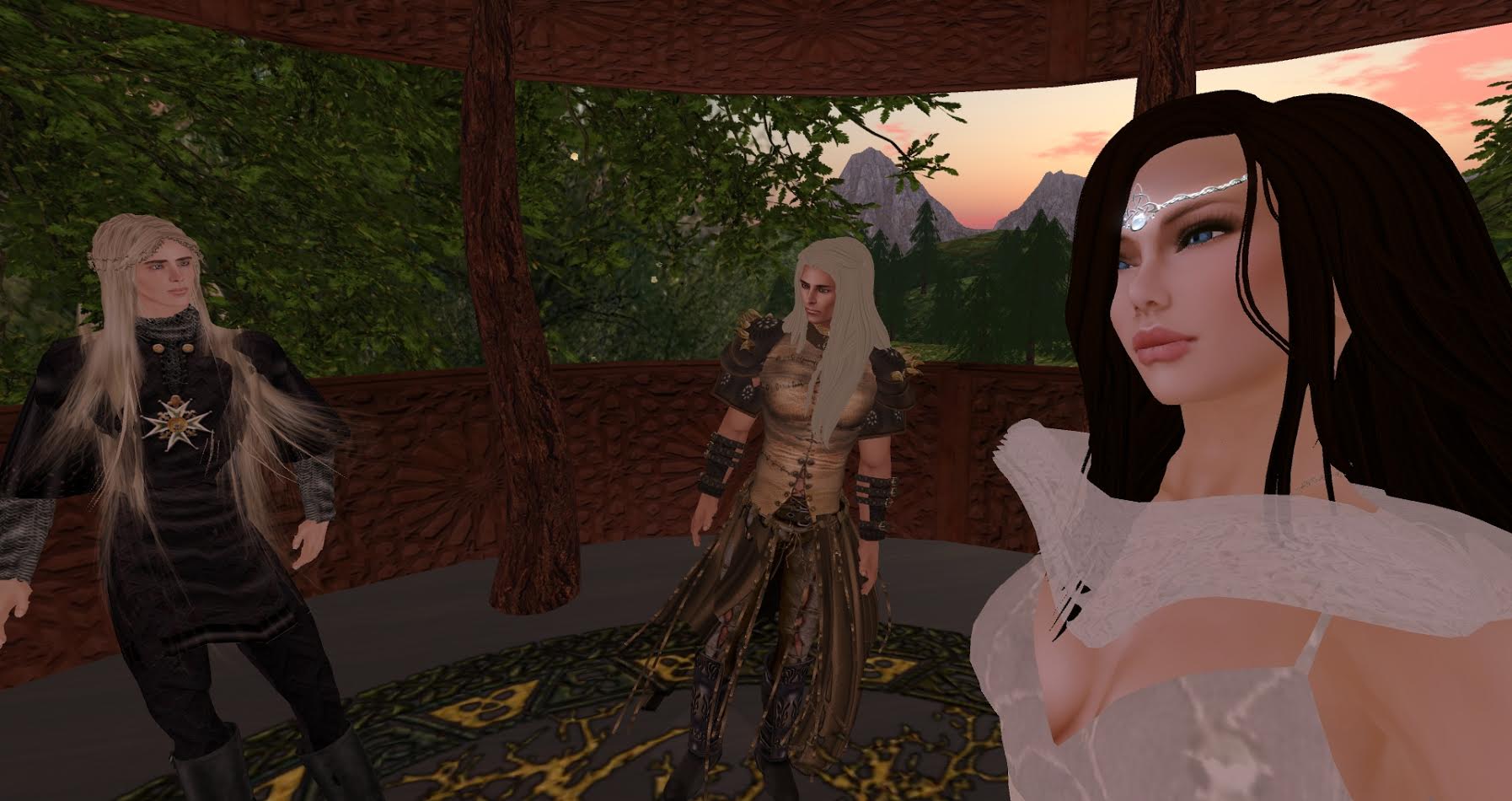 Following Elbereth's concise explanation as to the reason for the hastily arranged meeting, the silence among the two lords was solemn and thoughtful.
Elbereth observed the two Elven regents, yet pleased at the rapport and the unspoken agreement that Telvolas and Tirion shared. It was a fruitful beginning.
The Woodland King had ruled his forest realm for Ages now. He was one of the wisest beings in these Lands and also a fearsome warrior, having survived many battles to protect and guard his Elven subjects.
Tirion was, in comparison, a babe. Counting only 400 human years, he was accustomed to peaceful times, yet he was learned in the lore of the Elves and Lisianthus and not blind or meek in the eyes of danger.
Elbereth's gaze bore deep into her companions, and as they ended their meditation and turned their faces to her, she touched their souls with the same message.
Telvolas was first to speak, "Friends, the passing of the Queen of Sirenia is indeed a surprise. Her long and peaceful reign has made her fade in our memories and it is many moons since an Elf has returned to Dorthonion with tales of the merfolk," he nodded thoughtfully. "Only Eru knows how her death will effect her kingdom, but Evil does not sleep and we must strengthen our alliances to counteract any challenge to the peace of our realms and Lisianthus!"
"My thoughts exactly," said Tirion in a muted tone. "We shall send out scouts and messengers of unity and alliance to the folk living upon our borders."
Elbereth acknowledged the wisdom of their plans and rose to take her leave. Telvolas and Tirion sprang to their feet, but Elbereth countered in a soothing tone,
"Remain seated, Loyal Ones. I shall ride among the forests before returning to Tavrobel. You both still have much to discuss and my presence is no longer required."
The faces of both Elves fell and in unison they protested her leaving unaccompanied, but Elbereth quieted them with her smile, taking their hands and pressing them gently.
"My Lords, spare your concern for me. I will be quite safe and I have other tasks that need attending to. Gilroch will carry me like the wind and see that I return safely to Tavrobel!"
Before they could protest further, she was gone, a shimmering light all that remained. They heard her bid farewell to the rangers outside, both remaining silent until the sound of Gilroch's hooves faded.
Telvolas turned to Tirion and asserted quietly, "The Moon shall orbit backwards before anyone will ever understand the ways and plans of the Lady Elbereth!"
Characters & Places:
Tirion - Elven Lord of Tavrobel
Elbereth - Elven Eldar, currently residing in Tavrobel
Gilroch - 'Star Horse', Elbereth's mare
Telvolas - King of the Woodland Elves
Eru - Supreme Being
Tavrobel - Elven Haven of Learning
Dorthonion - Realm of the Woodland Elves, lies hidden and well protected deep within the forests.