Follows: The Drow Forces Arise and Attack
As the horizon filled with the dust of thousands of soldiers marching towards Vhaerun, one Drow took a different course, directing his stallion deeper into the heart of Blackmoor....
Welverin, noble and handsome with wary amber eyes, neared the mouth of the High Priestess' lair. He hesitated before entering, acutely aware of the hairy-legged Watchers who guarded this sanctorium to the Goddess Lolth.
Once the enigmatic and charismatic leader of the most reviled mercenary group in Blackmoor, he had learned to fade into the shadows and not call any unwanted attention to himself. His youth had been partly spent in the surface realms, in very different circumstances, but he guarded his history and few dared to question his past. His pride were the ancient magical daggers he always carried, which returned to him after being thrown. His unlined face was only marred by the eyepatch which covered his right eye. His sight was perfect, but the eyepatch was a prized possession that he had robbed from an old wizard who dwelt near the surface Elves in Tavrobel, and had the power to block mental intrusions.
Only one person had ever succeeded in reading his mind.
Zarra.
The High Priestess strode towards him. There was the need to exact punishment in her eyes and the air around her hummed with malevolence, yet a chilling smile graced her exquisite features. He dropped to one knee before her and lowered his head.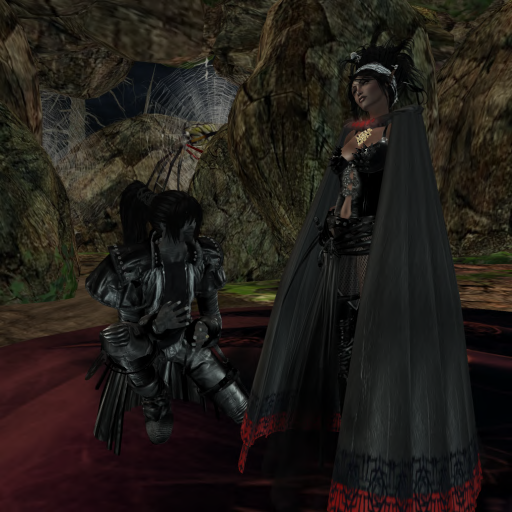 "Rise, Welverin, Malla Jabbuk (My Male)", she took his hand proprietorially, moving so close that her breasts rested on his chest, his heart pounding uncontrolled against her flesh.
She probed into his mind, pushing aside his concern for her current state of mind with irritation and reliving Viconia's address to the army. Zarra delved deeper into Welverin's compliant subconscious, as he lost himself in her gaze, but he snapped back to attention as a girlish giggle slipped from her blood red lips.
"Ussta Valaharess?" (My Queen?), he started, unsure of her mood, but she quieted him by claiming his mouth possessively and kissing him with such passion that his mind blanked, before pulling away abruptly, so that the world spun around him.
"Welverin, play your part in this charade well and you shall be adequately rewarded," her warm breath caressed his ear. "I require your mastery of deceit and your skill at spionage to obstruct the fanciful plans of Viconia."
The High Priestess pressed her body against his, enjoying his arousal and tormenting him by rubbing her hips rhythmically against his.
"But take care, Warrior. There are spies, scouts and other unknown agents within and without Vhaerun."
Zarra shook her head to stop unbidden memories of her audience with The Bone King from clouding her purpose. She concentrated on the look of devotion plastered across the mercenaries face and wondered that ruthlessness and total submission could exist so easily within this mysterious male. She glimpsed traces of the surface Elves whenever she probed his thoughts, but he had spent years hiding the memories and even she only snatched pieces of this intriguing puzzle.
She lowered her lips to his once more, biting at the lower lip until she drew blood, thrilled at the tensing of his body as the short, sharp pain pierced his senses.
"But your task is simple, my faithful thrall. See to it that Viconia defeats Amerakhte and then, when she foolishly implements her mutinous plans,... kill her."
The seductive tone of her voice enslaved him. He would gladly die for her, but his life force was attuned to just the opposite. Welverin had no greater goal than to remain alive for her and all his skill, learnt through hard years of combat and self-control, meant that there would only be one outcome in this situation and he would celebrate a victorious homecoming to Blackmoor and Zarra in a few days time.
* * * * *
Welverin: a feared Drow mercenary with a mysterious past, much of it spent in the surface realms.
Zarra: High Priestess of Lolth who rules the Drow of Blackmoor with an iron fist.
Viconia: Acolyte of Zarra and ambitious Commander of the Blackmoor Forces... with her own agenda.
Amerakhte: Drow Chieftess of the coastal Drow of Vhaerun.


Last edited by Elbereth Elentari on Wed Mar 29, 2017 9:22 am; edited 1 time in total