Follows ~ Coast of Vhaerun 7: To Arms
Welverin rendezvoused with the youngest of his mercenary band near the rugged border into Vhaerun. Greyanna was swift and loyal to a fault and he was pleased to see her return, along with her brother Ghaundan, from the swamps of Nila Kanta. The pair were Dark Elves and he had saved them as children from slavers off the coast of Tigan'ra. They were loyal to him alone and had been sent on his orders to alert the rogue Orc tribes of Nila Kanta, that the time had arrived for them to follow the call of Zarra and march towards Vhaerun.
It was Welverin himself who had first approached the varied Orc factions in the Wetlands. He had traversed most of Lisianthus since his youth and Zarra had directed him to hunt down the most ruthless Orcs and give them her communiqué. It was the rare Orc who could read, yet none asked his help to decipher the missive and all had agreed with little hesitation to await Zarra's command to raid Vhaerun.
So far he gathered, they were to march to the southern shores of Nila Kanta, where only a short crossing of Tigan'ra would be necessary to reach Vhaerun. Welverin could imagine that the town of Ilona, close to the border in Tigan'ra, would be laid to waste by the rampaging Orcs, but this had not concerned Zarra, who seemed to have little interest in the Drylands or the desert dwellers.
The speed and success of this mission had surprised Welverin considerably. The remaining Orc tribes had become more sly and ferocious since they had taken Nila Kanta under their control and their fate had become their own, but whether Zarra's dispatches contained threat or promise he did not know. With certainty he foresaw that the sheer immensity of the Orc hoardes that would surge through Tigan'ra and beyond would surely keep the Drow clans in Vhaerun occupied until Viconia and her forces reached their goal.

He waited until Greyanna gave him the sign that her mission had been successful and then with a satisfied inclination of his head, the trio set off to reconvene with Viconia and the Drow Forces.
* * * * *
Viconia had rejoined the spearhead of her elite company of Drow warriors and grinned at the thick fog that swirled around her, reducing sight contact to the barest minimum.
The thought crossed her mind, that the Priestess might be behind the increasingly turbulent weather they had encountered two days out of Kala Zaubishuk.
Zarra was a powerful spellbinder and enchantress and not to be underestimated, yet her not mentioning aiding the plan to devour Vhaerun und Sirenia by implementing the Elements made Viconia uneasy... what else may the sorceress have kept hidden from her?
The rain trickled languidly down her armour, managing to seep into every rift and she shook away her troubling broodings. A moon's ride from Tlintith, the Commander of Blackmoor's Forces had divided her troops. The Lizard Riders and the less proficient male Drow soldiers had been directed to slaughter any Drow that were foolish enough to come to the defence of Vhaerun. Any who chose to surrender were to be butchered too. Zarra wanted no prisoners. Her plan envisioned Vhaerun as a clean slate and her orders were for all who now called Vhaerun their home to be wiped out.
While the ground troop battled their way from the north towards the coastline in the south, the Orcs would attack from the east. This flanking maneuver would tie up any interfering defenders while the bulk of the force remained unchallenged until the coast was reached.
Which only left the treacherous mountain ranges of the east which seperated Blackmoor from Vhaerun.
This was Zarra's chosen route.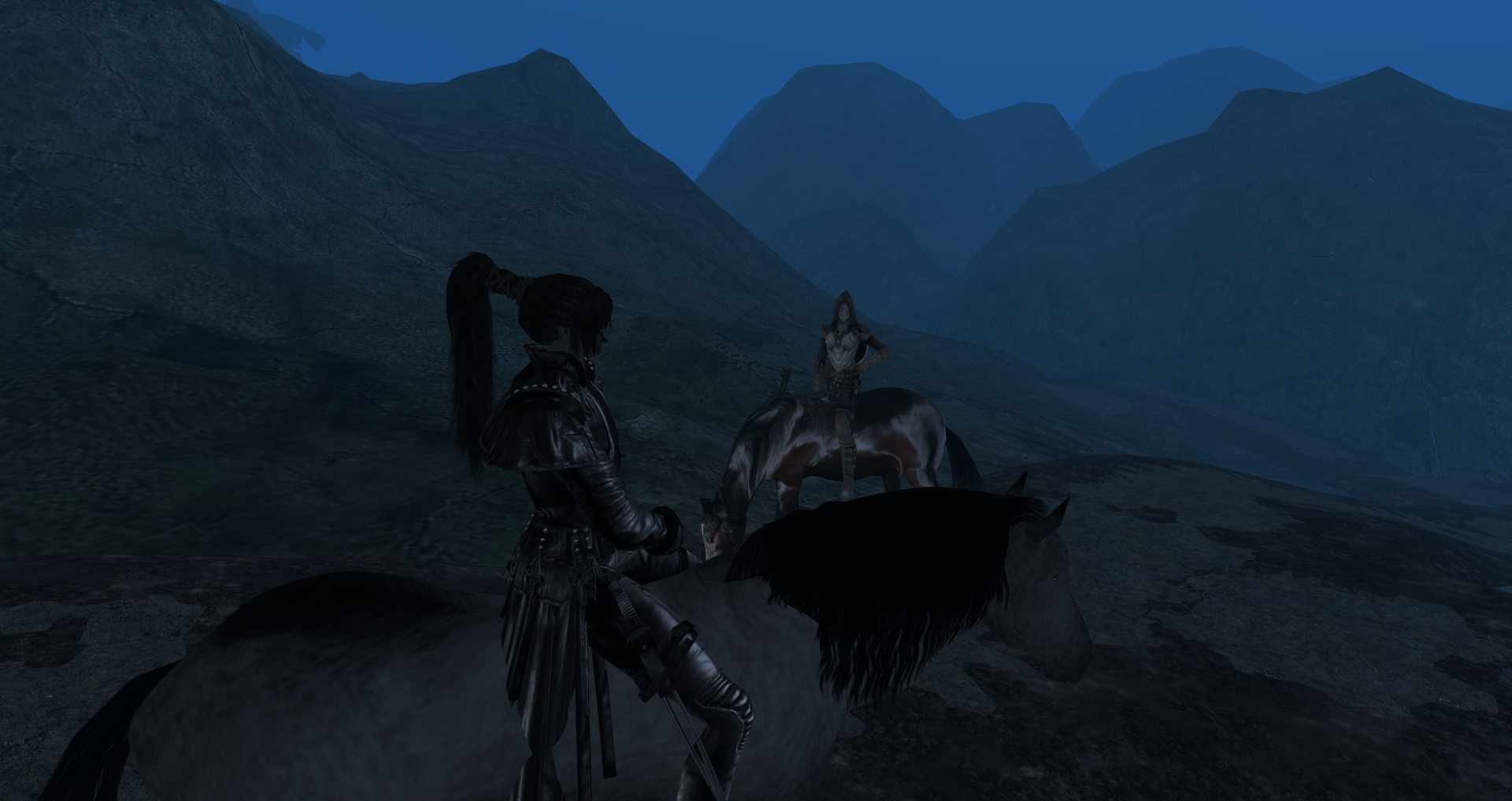 Viconia and her Forces were to be guided from this point through formidably perilous mountain paths by Welverin and his mercenary rogues. She had only met the strangely compelling warrior twice, yet it was soon clear to her that his knowledge of warfare and his expeditions across the continent, were both extensive and useful. Useful for her own plans!
Viconia was pretty sure that this soldier of fortune was many things, but uppermost an opportunist, as were most male Drow who had learned to defend and assert themselves within their matriarchal culture. When the time came, Viconia was positive that she could compel Welverin to join her in her plans to overthrow Zarra and take Blackmoor for her own playground... his contacts and uncanny ability to subject lawless Drow, Orc or other Shadow creatures to his command would be a valuable asset in her ascendancy.
She turned in her saddle amidst her fighters and gave Welverin a curt nod. He immediately galloped passed her, followed closely by his company and away through the dense fog. Viconia swallowed hard and kicked her stallion into action.
The mountain paths were narrow and slippery at the best of times. With the rain and fog shrouding their movements, their route along the border of Vhaerun would possibly go unnoticed as planned, but she doubted that all her troops would survive the precarious ride to the hills which met the sea where the merfolk reigned.
Some additional insights as well as an "Action Roll".
Nila Kanta is home primarily to the serpent people and lizard folks. They live primarily in the jungle swamps on the ground. We can safely assume that the Orcs live in the mountains. The two groups get along pretty well, for the most part. Besides the Orcs, you probably also convinced a few serpents and lizardmen to accompany Welverin.
Since you've made an action on the village of Ilona, I'll determine the Orc party's action and outcome. I am going to give them the following stats: Strength: Good (+3), Dexterity: Average (+1), Constitution: Fair (+2), Intelligence: Average (+1), Wisdom: Fair (+2), and Charisma: Mediocre (+0) Since the army is attacking, we'll use Strength in the action roll (Attack is one of the "Four Actions" a player can take on a target).
For this target, I'll include "Passive Opposition". Passive opposition on an attack means you've caught your target unaware or otherwise unable to make a full effort to resist you, or the NPC isn't important enough to bother with dice (we're going with both here, Ilona was caught unaware, and yes, a village can also take on the form of an NPC, with stats and all that jazz). The Orc Army only needs to beat a target number on the "Ladder" to acquire success. For The Village of Ilona since it's mostly just a small village (pop. 965) with maybe some wooden walls surrounding it, we'll make that target a +1 (Average). Whatever Welverin rolls, we can add his Strength skill (+2) to the roll. A roll can be anything from a -4 to a +4.
So here comes the roll...
Welverin (Orcs) rolls a +1. Adding the +3 STR = +4
Village of Ilona defense is at +1.
Outcome: Succeed with Style (4 -1=3 - Ouch!) If you roll higher than your opposition by 3 or more shifts, you succeed with style. This means that the Orcs get what they want, but they also get an added benefit on top of that (you get to decide in your future narrative).
Even though there was success here, we'll assume a small percentage of the village population did manage to get away, but the rest were injured, taken as slaves/prisoners, or killed. Since you succeeded, you get to determine the overall effects.
Now we can safely make the call that The Orc forces were able to continue on their trek to Vhaerun. (Congrats on Victory! Alas, Ilona....)