Hugh scanned the horizon. He'd headed to his favourite lookout the morning after his chat with Captain Atwell at the Green Dragon.
He'd hung on each word the old seadog had uttered about distant ports, mysterious crew hands, new spices and the strange goings-on across the seas.
His attention had, for once, not been averted by the comely form of Bess Bennet. The apple of his eye was laid low with a fever and Rhodesia, the Green Tavern's feisty owner, had been tending the bar and keeping the usual locals and visiting sailors in check with her saucy tongue.
He'd mulled over the Captain's description of the tempestuous storms and waves of the past weeks and the chilling howling that had swirled around The Lady of Shalotte, as she had valiantly braved the tempest to return halfway hail to Silverwind.
And now, there he stood, gazing across the harbour opening and as far as his eyes could see in the pre-dawn gloom. The weather had dampened, the sunshine of the past weeks washed away with constant drizzle, falling gently upon the fields and market place, yet the seas were no less turbulent, huge waves still easily visible from his perch in the tower ruin outside Annwn.
Without prior warning, the hairs at the back of Hugh's neck stood on edge and he started upon turning to see a cloaked man standing on the battlement, shrouded by the mist rolling in from the mountains. Hugh swallowed a cry, nearly choking as his pulse raced and his hand flew to the dagger at his waist.
"I'd stay that hand of yours, Son of Hugh, for your reflexes are hardly swift enough to stifle a yawn before it escapes your mouth!"
A look of outrage flashed across Hugh's face as he took a step backward, while the stranger chuckled quietly into his beard. Hugh tried to catch a better glimpse of the man's face, but the hood of the shimmering dark cloak hung low over his brow. The man made no sound when he moved, nor could Hugh hear him breathe. Hugh shook his head in frustration... his sight must be somewhat clouded due to his rising panic, for the stranger seemed to disolve into the mist before suddenly reappearing bold as brass before him.
The young man blustered, "I can defend meself, just fine, Stranger! Stay where you be or you'll discover just how well me aim with a dagger is!!!"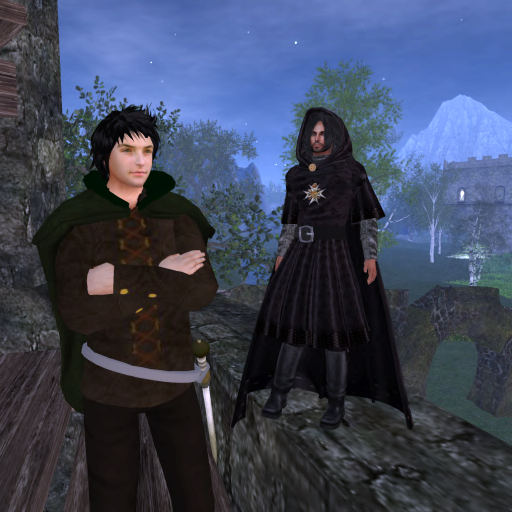 The cloaked man lunged suddenly towards Hugh and with one fluid pounce he had both Hugh's hands behind his back and the tip of something sharp direct between his shoulder blades.
The agility and silence with which the attack took place winded the young sailor and he stood rigid within the grasp of his stealthy opponent. The possibilities flashed across his thoughts... was the man a mercenary, possibly a deserteur from the armies of Silverwind? Perhaps a pirate or bandit who had been using the ruins to stash his goods? A cut-throat rogue, who slit necks like his for practice?
The sweat beaded his brow when unexpectantly the answer escaped his lips and he relaxed unexpectantly, certain that the stranger meant him no harm as countless stories and murmurings awakened from his past...
"Ye be the one they call The Shadow!", he exclaimed.
He stumbled as he was set free, but a strong hand steadied him before stepping back, a pair of discerning eyes penetrating the foggy haze as a wondrous grin replaced the surprise on Hugh's face.
"I be right, ain't I?", he added, pleased that he had solved the riddle of the stranger's identity and relieved that his neck would remain upon his head this day. And yet, addressing this man as The Shadow did less to reveal his true nature and Hugh searched frantically among his memories for all he had heard about this legendary man.
The Shadow inclined his head, recognising the name Hugh had conjured, but said no word.
"No one around here has sighted you in many moons....," he paused, not sure how to address the man before him. He held himself like a lord, his dress was partly splattered with grime, yet the material was of the hightest quality, shimmering in the half light. The sword and dagger hanging at his side were sheathed in polished silver, decorated in some foreign fashion and the bow Hugh glimpsed hanging on his back was no ordinary weapon.
Hugh's eyes opened in amazement and he whispered, "Are ye an Elf, my Lord?"
The stranger's smile was searching. His reply was not quite disappointing, although Hugh longed to behold one of the elusive Elves close up, "Nay, I am not of the Elves." This left Hugh at a loss where to take his questioning from there.
After a short pause, "People have been telling tales of a hooded figure slipping through the forests around these parts since I was a lad," Hugh began hesitantly. "It was said that no matter how swift a horse was, nor how close the cloaked being came to the walls, no person was ever able to catch him or even gain a glimpse of his face."
Hugh nodded as a memory filled his thoughts, "Me own Ma would tell me that The Shadow would come and snatch me away were I to venture too far into the woods...," he gave a sad sigh before continuing softly, "...aye, I was just a lad and she was still with me and da."
"I remember your father from long ago. He was an able man," was the reply with an even tone. "As to the rest, much is spoken, less is truly seen."
Hugh wondered at the silence that shrouded the man, a veil that seem to make him less tangible. "I didn't hear yer coming at all, my L-..., er..., he stopped at a loss. "Hugh, my name is Hugh, like me da's, but what title shall I give to you?" He looked at the man quizzically.
"Use the name you've always associated with me, Hugh, son of Hugh. Shadow is as good a title as many other!"
Hugh nodded. He then turned back towards the sea and asked quietly, "Are you in these parts because of the disquiet coming from the mer?"
Shadow raised an eyebrow, "... tell me what you have heard, Hugh."
Hugh faced Shadow again and shrugged, "It is said that the sea dwellers are at war or some say that the ghods are sending a warning for all the debauchery in Silverwind. My da always said that the End would commence with the waves."
Shadow scanned the horizon, a deep breath escaping him before he queried the younger man wearily, "And what do YOU believe, Hugh?"
Hugh reddened as he considered what he had uttered. The town gossip must seem silly to this hardened warrior. "Well, I mean, I've been to sea meself and I've seen the merfolk with me own eyes! Whether it be war amongst them I cannot say. As to the ghods, I've never seen the sea this thundersome for so long, but I reckon the ghods would hit Silverwind direct if their ire had its source there!"
A deep laugh cut the quiet and Hugh looked at The Shadow in confusion.
"Have you been to Silverwind, young Hugh?"
"Aye, once as me ship docked," Hugh stuttered.
"And... you managed to survive the... '
debauchery' then?," he queried in a mirthful tone.
Hugh looked down at his feet feeling foolish. "Aye, seemed like a pretty normal place, big and loud like, but not so different from here."
"No, the folk of Silverwind bear little difference to your own folk." His voice softened. "You need to use more than your ears, Hugh. The
turbulent seas may well bode darker times ahead, but there is rumbling in darker parts presently and you shall need to hone your senses to see more than your eyes reveal."
Hugh raised his head proudly, "I see a lot more than the guards on them walls see!"
"You didn't see me until my knife was in your back," the stranger answered matter of factly.
"I just happened past on my way to the Elven city of Tavrobel. The guards are asleep and you were watching... yet seeing little."
Hugh perked up at the mention of the Elves, the smart caused by Shadow's criticism quickly forgotten as his curiosity took hold. "So, you can find the way to the Elves?"
Shadow gave a curt nod. "I return from Heimdall, the dominion of the Dwarves. I was sent forth by the Elves to deliver the Dwarf King a message and now I return. What know you of those whose realms border your own, Hugh?"
"I count a Hobbit or two among me friends and I've heard tales of the Dwarf Kingdoms, but never seen not one in these parts." His eyes glazed and his tone became wondrous, "As a lad I went once with my uncle to Myrefall in Greenfields. He traded some with the Hobbitfolk and one eve I'd ventured into the forests to gather wood and saw a shimmering Elven group, mounted on pure white mares. ''Twas the most beautiful sight I've ever done witnessed."
Shadow smiled and nodded. "Hobbits, Dwarves, Elves... what of Orcs, Drow, Serpentfolk?"
Hugh swallowed and shook his head. "Those be the spectres what bairns let into their night mares..., they ain't real..."
Shadow sighed. "They are very real, Hugh. They haven't ventured this far north in many lives, but they still dwell not so far away and live to cause havoc. The havoc has begun!"
The man moved closer to Hugh and his hand rested on his arm.
"Lad, you have much to learn, but little time...," his eyes bored into Hugh's, "you speak none of the Faeriefolk, your neighbours. Do you deny them?"
An uncertain laugh bubbled and died within Hugh's throat. He shook his head again, beginning slowly, "Bungo, a Hobbit from GrrenFields, speaks of the Fae... and Old Biddie is said to have dealings with them. But she's a strange one and no one gives heed."
Shadow's voice hardened, "You'd do well to heed Biddie Browne more, lad. She sees further than your eyes ever could. You could learn much from her." The man's grip tightened around his arm until Hugh winced.
"Train your sight, heed your ears, lad. Seek out Biddie and find out more about what roams in these parts. You need friends and allies among the races who dwell so near to your own kin. Learn to be wary." The look in Shadow's eyes grew stern, "Mind you show Brigid Browne true respect! The Elves, Hobbits and Faeriefolk all know her name!"
Hugh's eyes grew round at these words.
The stranger continued tiredly, "Annwn has been fortunate to live through peaceful times these many moons, young Hugh, but the Elves see troubled times ahead."
Shadow let go his hold on Hugh's arm and moved swiftly back to the edge of the tower. He whistled low and a horse's soft whinny echoed in return.
"The town guards are ill-prepared to notice signs of evil approaching. I won't return this way for at least two moons, but you seem strong, clever and able enough to follow the path of a Ranger... to provide the foresight that others lack to protect these parts."
Hugh's chest swelled and his heart hammered as the words sunk in. Could he truly ever be anything like this mysterious, stealthy stranger? Could he learn to fade into the mists, tread without trace and gain the trust of Elves, Dwarves or the Faerie?
He voiced his uncertainty, "I wouldn't know how to go about any of that, Shadow! Who is there in these parts to teach me about being a Ranger?"
An elusive smile flashed from under the hooded cloaked, "Seek out Brigid, lad."
This last directive was uttered before Shadow took a step back and dissolved into the fog swirling around the tower. Hugh rushed to the edge and peered down into the gloom, panting with fright that he might see the broken body of the imposing Ranger splattered upon the ground.
All he saw was darkness until the fading beat of hooves reached his ears and his mind cleared. Hugh laughed aloud with relief and stared determinately in the direction of the decreasing sound. "If only to ever learn how to make such an exit will prove reason enough to pay heed to his words!" He took one last sweeping gaze across the harbour as the sun peeked over the horizon and headed towards the walls, climbing deftly down the sides, intent on paying Biddie Browne a breakfast visit.
His eyes lit up as a happy thought crossed his mind, "Aye and it can't harm my chances with Bess neither!"