Follows: The Shadow and touches on the Vhaerun Wars
"Your Highness, forgive the interruption, but...," the panting guard was cast speechless at this point, cut off by the irritated upwards glance of the King, seated behind his desk across from Lord Enel, his Chief of Staff.
The Woodland King's tone was cold, "I am not famed for my forgiveness! What is it?" His eyes narrowed dangerously as he surveyed the twitching warrior. Even the bravest of men found it difficult to withstand the ire of the King without shrinking.
The guard bowed and tentatively raised his eyes to look at the King, summoning his courage before continuing in a calmer voice, "My Lord, the White Lady is waiting below and requests an audience."
Lord Enel's eyes widened in disbelief as he quickly turned back to gage the response of the King. A flash of fury crossed Telvolas' face, his next words fired with menace at the unfortunate guard.
"And how did the Lady manage to cross my borders and venture within the sanctum of my realm without prior warning?"
The guard was momentarily at a loss for words, staring at the King like a rabbit caught in a trap. "We..., she..., there was...," he stopped abruptly as the King's stare hardened. Straightening his shoulders, he began anew, "Captain Riadan is with the Lady now, my Lord. She appeared suddenly direct for the palace guard at the entrance to your Halls and requested audience."
Telvolas raised an eyebrow a fraction, "Very well. The question as to how she managed to enter and traverse my Realm unseen and unchecked remains a mystery that I see I must solve for myself!"
The King rose swiftly and swept out of the chamber, his anger radiating off him in waves.
Lord Enel rose with less haste and followed the King, lightly patting the guard on his shoulder as he left, pleased that the young ellon had not passed out under the pressure of Telvolas' flaring fury.
The King reached the ante-chamber off the courtyard within moments, his eyes fixed on the white figure silhouetted among the trees and surrounded by guards a little way off. He motioned to a guard to fetch the Captain, watching as Riadan bowed low to the intruder before hurrying to the King's side.
Telvolas scowled as the hardened warrior filled him in on the surprise appearance of the Elf revered among his folk as the White Lady, the tone of his report reverent and without the least reproach for her intrusion. The King bestowed an icy glare upon his trusted Captain and retorted sharply, "Have her bound and brought before me in my quarters."
The King of the Elves turned in fury, nearly knocking over Lord Enel in his haste, pleased at the shocked look on Enel and Riadan's faces and strode back towards his chambers. He was loathe to encounter the unsought intruder in his throne room before witnesses. He swept passed the guards outside his rooms, his eyes glacial, and moved across to survey the view outside the window, recovering his usual reserved demeanour before the sharp knock at his door roused his attention, his pulse quickening anew.
"Enter," his command a near growl, his eyes growing large as he swung around to see his guards flanking an unbound Elbereth, Riadan entering last and closing the door with care.
Her smile was guileless as she gently inclined her head in greeting towards the King, her bearing displaying no inclination of wrongdoing on her part, nor of her treatment as a common trespasser within his Realm on his orders. His blood raged as he demanded to know from the Captain as to why his command to bind the detainee was not imposed.
"Your binds cannot hold me, Telvolas." Her mellow voice relaxing all listeners. "Your guards carry no blame," she ended quietly.
Riadan and the accompanying guards remained at attention, not trusting themselves to answer the King as the tension in the room increased to an uncomfortable level.
The King fiercely gestured towards the door, his command as sharp as his elven blade, "Leave us!"
As the door closed behind her, Elbereth made a tentative step towards a book-strewn bench, only to be forced to redirect the motion as Telvolas stormed towards her, his determination to restrict her movement pushing her to take a step backwards until her shoulders brushed against a wooden bookshelf.
Telvolas towered over her, his arms trapping her against the shelf, the muscles tensing with barely contained rage, his animosity resonating in waves that surrounded Elbereth.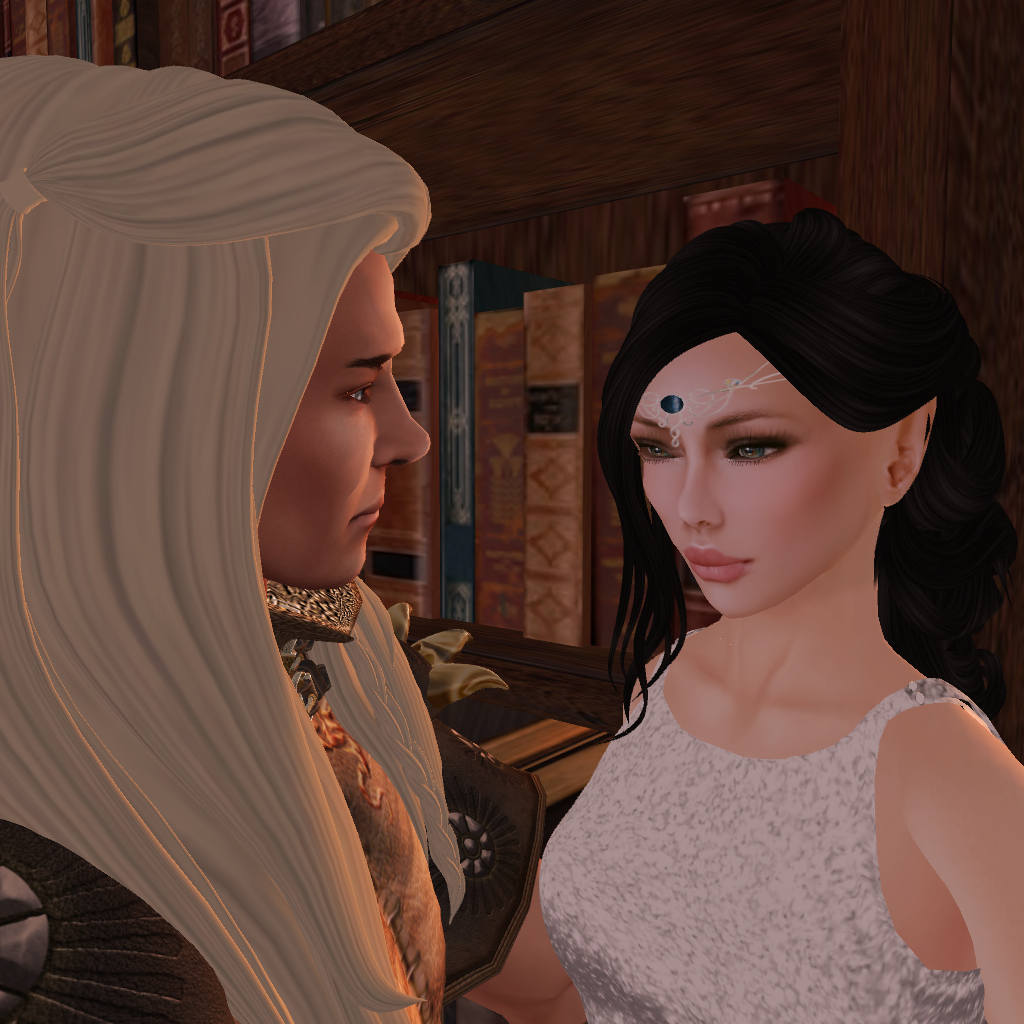 "How dare you enter my Realm - unwanted and uninvited," the words exploded from the King. "You have breached the security of my borders and endanger the folk of my realm!"
Elbereth glanced into the glacial features of the Woodland King, her dark lashes sweeping upward and her bright eyes catching Telvolas with their gentleness by surprise. Her voice was gracious and soothing when she finally spoke, "Telvolas, since when have we become enemies that I may no longer hope for a welcome within your dominion?"
He struggled to retain his ire as her words dispersed the storm of his rage, replaced with exasperation at the effect her presence always had on those who she bestowed her attention upon. He had watched her disarm the most hardended of opponents on countless occasions over time. His arms relaxed a fraction, yet his tone remained unbending, "Dorthonion welcomes those who make appropriate overtures towards me and request an audience along the pertinent channels, my Lady."
Telvolas felt his annoyance rising as Elbereth held his gaze with disquieting nonchalance, "Trespassers, on the other hand, pay for their ingression with a place in my dungeons and upon my good grace spend their remaining days there."
"Do you think you can hold me here, Telvolas?"
Her warm breath brushed his lips as she watched him through her long lashes. The King felt his composure vanishing as he suddenly became immersed in the galaxies of stars twinkling within her eyes.
She held him trapped within her glance, her lips forming a smile as his snarl was transformed into a vexed retort, "Mithrandir was just as troublesome in Ages past, my Lady. Do you plan to become as unmanageable?"
Elbereth coloured slightly at the mention of the White Wizard's name and Telvolas tore his eyes from hers, narrowing his eyes at this reaction. He let his arms drop, increasing the distance between them.
"Have you come to meddle then, as he did long ago?," the King questioned wearily.
As her smile faded, a serious look dampened the shine of her eyes. "Telvolas, you have failed to uphold the terms you agreed upon during your meeting with Lord Tirion three moons past."
She ignored his consternation and cut off his reply, "Aravir has returned from the North, bringing news from the Dwarves. They reported no visits from Elven delegates and held Aravir's news of war among the southern races for interesting, but not unsettling."
Elbereth raised an eyebrow as she followed the uncontrolled emotions flashing in the Kings eyes. "Lord Aravir was received by Vestri and quickly dispatched without an audience with King Halvor."
"Aravir reported sighting Drow entering Heimdall upon his departure. Damin, a dwarven guard who knows Aravir as the Shadow paused to gossip to him that they were being treated as guests by the King!"
She paused and waited for the Woodland King to consider the news. He remained silent.
"Neither have Dorthonion messengers reached Annwn, the Hobbit lands or Silverwind. Aravir passed through each region gathering information upon his return to Tavrobel." Elbereth's tone became hard. "The Drow are at war, Telvolas, yet the tragedy of their wilful bloodletting is that there is a deeper Darkness yet concealed amongst them, biding it's time to strike against us all!"
Telvolas glowered at the shimmering elleth, marvelling at the depth of her knowledge and his unwise decision to underestimate her power and foresight.
"My King," her voice was velvet once more and she approached him until only a paper thin space parted them, "there must be no further delays. Those within Lisianthus who value their freedom must unite and forge bonds to offer protection to one another."
He gave a sharp nod, a frown returning to his face as she unwittingly reminded him of her unchecked crossing of his borders that day. "Dorthonion is not as unbreachable as you believe, Telvolas."
Her palm came to rest gently on his cheek, "But, you would do well to be more discerning towards those who mean you good or harm, melda tár."
The King covered her small hand with his, his eyes intent on her own as he answered with brevity, "I will see that Enel sends forth messengers to Silverwind by sunset."
His tone softened as the touch of her hand radiated warmth through is whole being and his free arm encircled her waist.
"As to my discernment of those who mean good or harm towards me," his embrace tightened, "Where you are concerned, I will reserve my judgement a while longer, meleth nin.