The Faerie Queen's golden head whipped up in annoyance as an earth shattering din echoed through her realm.
A merry cackling mixed with a noise akin to a banshee's cry filled the air. Orlaith peered across the Seelie Court where a smattering of her folk were gathered, chattering and gossiping among themselves.
With a loud pop Jenny Greentooth suddenly appeared on the toadstool where she had last stood. She was doubled over with mirth, tears streaming down her green-hued face and her laugh mirrored the screeching of fingernails running across a chalkboard.
Orlaith arched an eyebrow, yet on her lips a small smile was forming.
At that moment, Gancanagh came hurtling into the Court, scattering pixies in his wake and finally coming to a standstill, panting and red faced, before his startled Queen.
"Yes?", Orlaith enquired curtly, trying hard to hide her curiosity.
Gancanagh took a deep breath and bowed, although not in his usual courtly fashion. Orlaith frowned and fixed her gaze on Jenny Greentooth, teetering on the toadstool and still wracked with laughter, very likely to fall off at any moment...
"Miss Greentooth, do share the source of your merriment with the Court. We are eternally grateful for further amusement!"
Gancanagh gave Jenny a murderous look and began spluttering, "My Lady, I beseech you to punish that hideous Sprite," his voice quivered and his hand shook as he pointed to the small greenish being, "...she has disfigured me quite unreasonably and without cause!"
The handsome Fae flung his hands in the air and returned his attention to Orlaith, who watched both parties with a puzzled expression.
Jenny Greentooth widened her eyes innocently and shrugged nonchalantly, her reply all but lost among her giggles, "Your Golden Highness, I have fulfilled your request and brought the charming Chamberlain before your throne. I came across him rolling in the grass with a well-glamoured maid from the township, whispering sweet nothings in her ears... as is his wont." She grinned smugly.
"He ignored my plea to attend your wishes, so I embellished him with a few accessories fitting a creature cavorting amongst the greenery! I have done no harm...
...and my gaiety can truly only be assigned to my general joyful outlook on life!"
Orlaith smirked, her gaze drifting back to the near apoplectic Gancanagh and she sighed irritably, "I have need of the map of the Feylines hereabouts, Gancanagh. You were not here when I had need of you, preferring instead more, um... pliable company," the Queen raised an eyebrow and pouted prettily. She studied her Chamberlain with a bored look before exploding... "Oh, stop the squirming, Fae. Whatever is the matter?", she finished in a vexed tone.
"The matter! The matter!...", Gancanagh's chiselled features tightened with rage and his voice reached a shriek, "...only that minx has given me ears, whiskers, a collar and a tail is the matter!!!"
He pointed at a fluffy blonde tail attached to his rear before raising his other hand to scratch behind one feline ear.
Orlaith rose from her throne, hovering gracefully only an armslength from the warring Fae and smiled a sweet smile, stifling her mirth and announced calmly, "Such a fuss, I hardly notice a difference. Now about that map...," she remarked pointedly.
Gancanagh's face grew purple as he whined, "She must be punished, my Lady... and you must demand she lift the spell immediately! I can't go about like this... I-I-I... might get... fleas...," he finished lamely.
The Court erupted in laughter, only increasing Gancanagh's anger and making him scratch behind his ear the more furiously.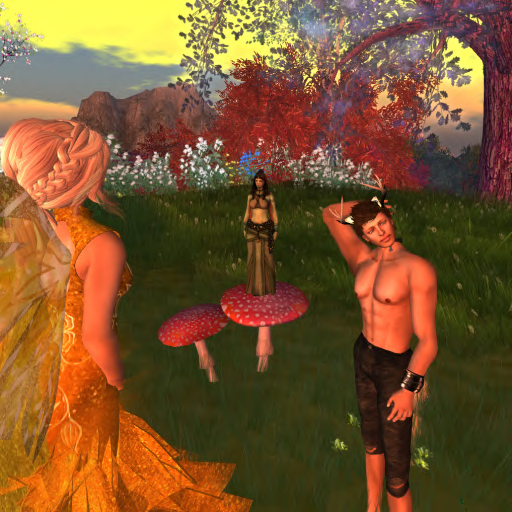 Orlaith dissolved into giggles. She only gradually recovered her composure and then proclaimed seriously, "I think you look purr-fect, my pet... and that bell on your collar shall serve as a neat warning to any human damsels you try to bewitch in future!"
The Queen settled serenely back on her throne, her lips twitching as she viewed the faeries and pixies still chuckling and grinning around the court as they watched the tormented Chamberlain.
"Gancanagh," the undertone in her soft voice became menacing, "...try to remember that "I" must not "DO" anything that I do not wish to do." Orlaith's frown was replaced with a dazzling smile as she concluded sweetly, "Now fetch me that map, Kittycat, and I may be so indulgent as to arrange fish for your dinner tonight!"